From baby humans to baby skunks (see slideshow for more info), the last two weekends have been really fun, interesting, and kinda stinky for me and Emily. We got to spend both with very good friends that we have not seen in a long time. Last weekend, Gwendolyn and John came to Longview with their 4 month old girl, McCollum. Gwendolyn and Emily met at OBU and have kept their friendship strong over the years. She married John a few years ago and they live in north Arkansas now. I've only been around John a handful of times, but he's a great guy and we hit it off right away. They are definitely two of our favorite people and we wish we could see them more often.
This weekend we went to the big city of Brownwood, Texas to help Dalton and Kristen break in their new house. They just moved there from Columbia, Missouri and are about to have a baby. Kristen is teaching biology and Dalton is coaching tennis at Howard Payne. Dalton's family and Kristen's mom were there as well. Dalton and I met in college. We pledged S together, roomed together for most of college and then for a year after college in Little Rock. We were groomsmen in each others' weddings, and he's one of my best friends on earth, but I consider him more of a brother. Kristen, Gwendolyn, and Emily were all Chi Deltas at OBU.
Here are some pics from both weekends. Enjoy!
John, Gwendolyn, and McCollum
She's a cutie!
Sushi at GZ's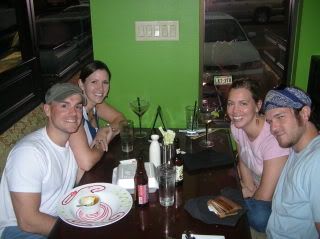 McCollum got to kick it with our nephew, Garrett, while we were eating.
Brownwood, Tx.
John and Gwendolyn, McCollum is beautiful. Dalton and Kristen, I'm sure that bun-in-the-oven Hutchins will be too! We had a blast with you guys the past few weekends. Thanks for being such great friends. We feel really blessed.